THE VILLA D'ESTE GARDEN - THE MIRROR OF DREAMS GARDEN
In this most romantic and mysterious spot, Franz Liszt and his "Jeux d'Eaux à la Villa d'Este" will accompany us throughout our journey, from fountain to fountain.
We are in Tivoli. The countryside is beautiful.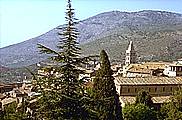 A modest villa, small and austere, stands in the center of the town, its main courtyard simply paved with black, white and red stones.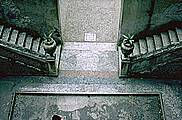 A small fake grotto, discreet, a sleeping Ariadne invites us to follow her into this garden, a mirror of dreams.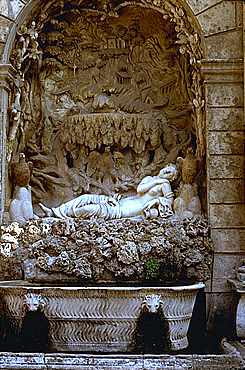 Crossing a living room prepares one for the revelation of the garden. Sumptuous ceilings with nymphets, demigods and gods spread all over them. Painted frescoes in trompe-l'oeil, a fake bookcase with fake books, fake candelabras, fake doors and, next to them, a fake window opening on to a fake landscape.
"Abandon all hope, ye who enter here. You are entering the domain of illusion."
The illusion is incredible.
We shall travel through this garden in the only direction which is meaningful. Contrary to Bomarzo and the Villa Lante, we shall go downward, following the water's course for the entire length of this mandatory journey, a form of education.
PLAN OF THE VILLA D'ESTE
The villa overhangs everything. The revelation, the secret will be found at the bottom, at the very end of the garden.