PIRRO LIGORIO (Naples ca. 1514 - Ferrara 1583)
When he was very young, he was the protégé of one of the great Neapolitan families, that of the Caraffa princes. In fact, he was so well protected by the Princes of Caraffa that the rumormongers of his time and later, including myself, were convinced that he was the Caraffas' illegitimate child.
As a little child, he liked to draw.
He was allowed to draw. A fashionable teacher of the time was chosen: Polidorio da Caravaggio. In 1534, he went up to Rome and worked for the great Roman families, using this sophisticated trompe l'oeil effect which was called "grotesque".
He would work for the Roman Caraffas, the Orsinis, the Estes and even the Popes.
He would do everything that was asked of him. He was encyclopedic.
Frescoes, architecture, facade "remodeling", gardens and perspectives.
"An architect," he wrote, "is not a plebeian architect, a mason; he is a man who orders and defends everything to do with Art, and so must know philosophy, musical theory, symmetry, mathematics, astronomy, history, topography, analogy and perspective (...) he must know how to draw and paint."
This description fits him very well. We are in his debt for some very important things:
The Vatican's Belvedere Court which shelters, among others, Laocoön.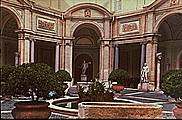 Pirro Ligorio's architectural work.
In Rome, he also created the Villa Julia's nymph grotto.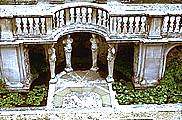 At the same time, he also assuaged his erudite's and specialist's curiosity about Antiquity. In 1549, at the request of Ippolito d'Este, he began the excavation of Hadrian's villa in Tivoli.
In 1553, he published the Book of Antiquities.
He became more and more well-known, and, as he was just as much a sketcher as a painter, a painter as a sculptor, an ornamentalist as a hydraulic engineer and a landscaper, he was commissioned to create more and more gardens.
Vicino Orsini thus called on him to create Bomarzo.
An excerpt from the "Book of Antiquities" on the meaning of his work in Bomarzo:
"... Although the `grotesques' appeared fantastic or profane, they were all ingenious symbols or objects, created not without some mystery... Some of the forms are so fantastic that one thinks one is dreaming -- the moral and fabulous attributes of the gods have been brought together there... They were found by chance, neither for the purposes of the fantastic, nor to show bizarre and demented objects, nor to use their variety as a decorative scheme, to transform the houses into spots of delight... They were created to provoke stupefaction and wonderment in miserable mortals, to illustrate the fecundity, the fulfillment of intelligence and its imaginative qualities to the utmost... And to show how life manifests itself, to enhance the proliferation of themes born of created objects...."
He designed the gardens of the Villa d'Este for Ippolito d'Este.