BRONZINO
Allegory, known as the Triumph of Venus
In 1545, Cosimo I asked Il Bronzino to execute a painting for Francis I, having to do with Cupid. With the help of a humanist, Landinelli, Il Bronzino created the painting.
Francis I received it, understood it and liked it. Everything in it was dialectically erotico-philosophical, fitting in perfectly with the Mannerist style at Chambord at that period.
Henri IV relegated it to the accessories warehouse. It was forgotten, sold and resold.
In the 19th century, it was bought by the National Gallery, where it still hangs today.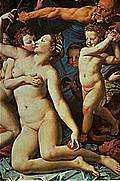 This painting shows Venus being kissed, nearly raped, by her own son, Cupid. Venus is sacrificing herself so that he cannot see the apple which she received from Paris (the beginning of the mythological original sin, as it was the beginning of the Trojan War). She is trying to hide his own arrow, to prevent him from continuing to wreak havoc.
The mother is attempting to divest powers from her son, who is becoming too insistent.
Around Venus and Cupid, there is a whole series of characters representing the woes and joys of love. Il Piacere or Pleasure, which Il Bronzino took pleasure in painting as a Hellenistic dancing satyr. Treachery is hiding behind him, with the prettiest possible young girl's face, the prettiest little multicolored dress, but which reveals a snake's tail, as she is, naturally, half snake and half woman. In one hand, she holds a honeycomb, in the other, an asp. Pleasure and pain at the same time. The two hands are reversed: her right hand is a left hand, her left hand is a right hand...
Down to the smallest details, this painting is an ambiguous one. Cupid's and Venus' kiss is extraordinarily physical. The relationship between mother and son is unbelievably present.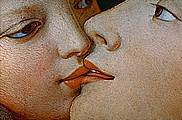 Jealousy is on the left, a horrible old woman.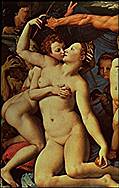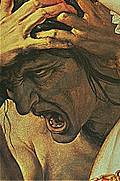 Look at the quality and beauty of the entire work with, as one last detail, the two masks.
p> A young woman and an old man.
A way of showing the ultimate aberration to which the phenomenon of love can lead.
This is a painting with clues, with themes, the slightest element of which was imposed on Il Bronzino by the very learned Mannerist environment which was Florence in 1545.