VILLA LANTE -- BAGNAIA - The Villa Lante gardens in Bagnaia
Plan of the garden.
The start of paradise.
This is a villa made up of two separate bodies of buildings. They were built by our two cardinals.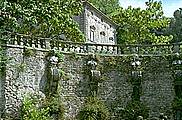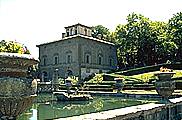 Presiding over these two buildings, a gigantic basin, the Moorish Fountain, considered one of the most successful works of Italian Mannerism.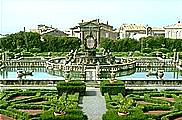 Its center contains Gambarra's coat of arms, supported by four boys. This is a work from Landini's mature period.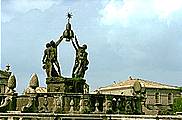 It is, in fact, a basin with islands, on which can be found all the emblematic and heraldic florets of the families allied with the Gambarras of that time.
It is surrounded by a marvelous boxtree maze which, by itself, makes the trip worthwhile.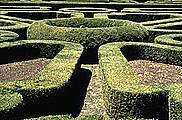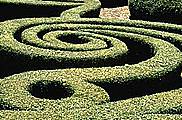 All this forms both a solemn and pre-Versailles whole with an extremely classical tone.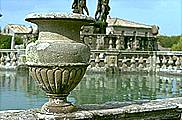 At Lante, everything is oriented toward making the spectator feel safe at the start. Nature has been completely tamed by man. But as you climb, for this is a garden which one climbs, uneasiness, fear and, from time to time, bursts of laughter will follow each other.