The villa overhangs everything. The revelation, the secret will be found at the bottom, at the very end of the garden.
We leave the known world, Rome, with this first fountain which is a strange model in the Piranesi style, some two centuries ahead of its time. Confined in Tivoli as he was, Ippolito d'Este missed his city.
He thus created a little fake Rome, "the Rometta", in tufa, dotted with water fountains. One can make out the Pantheon, the Temple to Castor and Pollux, the Colosseum, the Temple to Vesta, etc.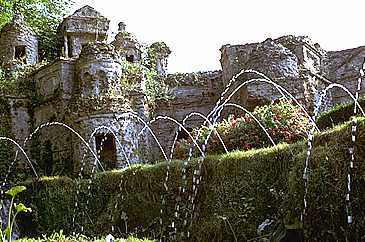 On sunny days, the cardinal liked to sit in a niche in the Rometta to watch the far away smoke of Rome. This was the exile's only window open on the Eternal City.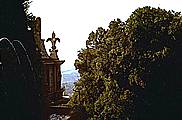 This is all that represents our world.
Right after the Rometta, the miracle of the fountains begins.
You must deserve the dream, the miracle world. The road is long.