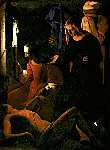 Saint Sebastian Tended by Irene
167 x 130 cm.
Paris, Musée du Louvre.
lighting effects...
---

This little flame may already have caught your attention: clicking it brings you back to the start of the chapter. .
---
Above all, we can now meet up again with our
strange gypsy!