Clothed in brilliant white and heavenly blue trimmed with gold, a woman puts her hand on her heart to profess her faith. Faith dominates, her foot is resting on the world. On an altar-table, the Church's attributes: the Scriptures which bear witness, a chalice, a crucifix and a chasuble. On the tiling, the pattern of which evokes water: an angular stone, Christ crushing a snake, evil, and an apple, original sin.
These elements exist in an iconology dated 1613 by Ripa, published in Bologna, and which all painters had on their bookshelves. This painting is a summary, a pre-death inventory of all the motifs which created the "Vermeer miracle".
One last time, we can see the curtain, the chair, the tiling, the tapestry, the model, the painting within the painting - a Hanthorst crucifixion - the geometry taken to its extreme and the light, brought together by white accents.
It is unbelievable to say that all this finally culminates in what is the real symbol of the illusion: hanging over faith is a spidery glass ball, as though in a dream, in which one desperately seeks to find Vermeer's reflection, like Van Eyck in the Arnolfini.
---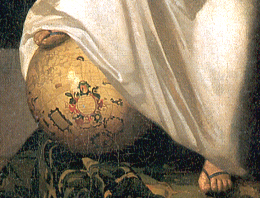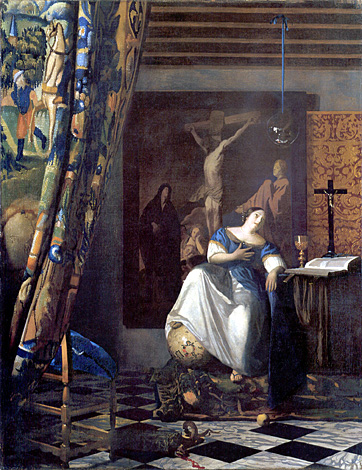 ALLEGORY OF FAITH - c. 1671- 1674 - (114.3 x 88.9 cm.) - The Metropolitn Museum of Art, New York - Bequest of Micheael Friedsam