Faithful to the esthetics of the previous painting, Vermeer shows a large table, a pretext for painting a carpet and a young woman, a pretext for rendering the crimson of the skin and a decor reduced to essentials of some vertical and horizontal lines.
A painting without a subject, it nevertheless can make you dream an entire lifetime. That is the miracle of Vermeer. Nothing happens and epic tales are born.
In the carpet's velvety nap and shimmer, the beauty of the still life and the stoneware's belly, the admirable fruit dish, one begins to feel what he will search for. One can also notice great progress in the level of his trade, in his painting.
Vermeer really deserves to be called an impressionist: nobody better succeeded in rendering this shimmering of light on an object through the use of paint. A superb painting, but still not quite Vermeer.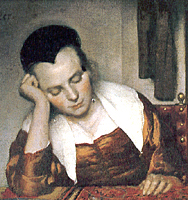 ---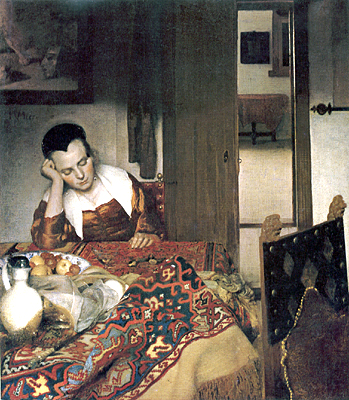 Girl asleep - c. 1656-57 - 87.6 x 76.5 cm - The Metropolitan Museum of Art, New York Bequest of Benjamin Altman