In the this painting and MAIDSERVANT POURING MILK , the same attempt: to show, beyond the faces, the beauty of the articles (the bread, the basket, the milk jug's stoneware, the threads, the silk, the shuttle and the lacemaker's cushions).
The network of strands of light, indescribably flexible, stretches out. The lacemaker's silken face, fingers and breath bring her work's threads to life.
One cannot imagine things more beautiful than these shuttles and the curious brilliance of the blood red, the blue and the white pointill's which give this painting all its texture and relief. The transparent white collar is an interplay, an overlay of tiny strokes of white, more or less blended into the yellow.
Vermeer worked on this painting much as the lacemaker did on her work. Extreme concentration, fanaticism for a perfect creation, perfect control of the use of light. Each brush stroke, like each knitted stitch, creates the network of the lace and the painting. Time elapses at the rhythm of the stitching, serenely and with happiness.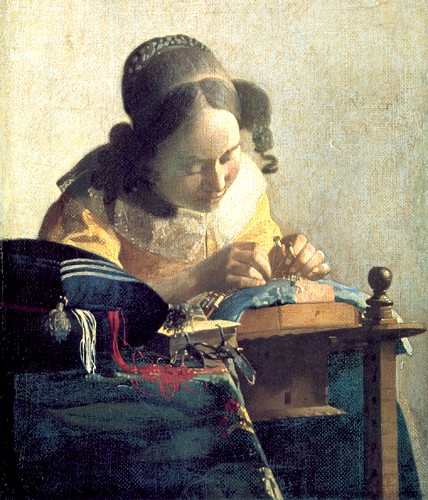 THE LACEMAKER - c.1669-1671 - 24.5 x 21 cm. - The Louvre, Paris