This painting is the first known Vermeer.
A large format work 56.3 X 51.2" (143 X 130 cm). The subject, the decor and the cultural climate are perfectly exemplary of the Caravaggio school, in the tradition of raconteurs of ribald stories, prodigal sons and cheaters. One can see a young woman, whose firm curves are being groped by the putative client under the attentive eye of the assistant procuress. It Is obvious that what could be and is very often vulgar when rendered by certain painters of the Caravaggio schoool, is transcended here.
All the emphasis is put on beauty, the quality of the admirable tapestry, the balustrade and the perfect contrast of the yellow with the work's overall reddish-brown hue. A painting with promise. Vermeer had not yet been born.
---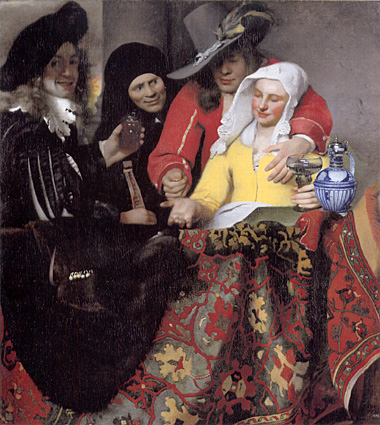 The Procuress - 1656 (143 x 130 cm.) - Staatliche Kunstsammlungen, Gemäldegalerie, Dresden