Vermeer has returned to smaller formats: two 7.8 X 7.1" (20 X 18 cm) masterpieces which can be seen in Washington D.C.'s National Gallery and which have some rather special features :

They have been done on wood panels.
they only show half of the torso.
the light comes from the right.
The treatment of the front inset and the fur cuffs, the strange Chinese style hat, the way the model stands out from the tapestry make it a privileged moment in painting.

Vermeer felt the need to continue this experience and created her pendant, in which he went much further.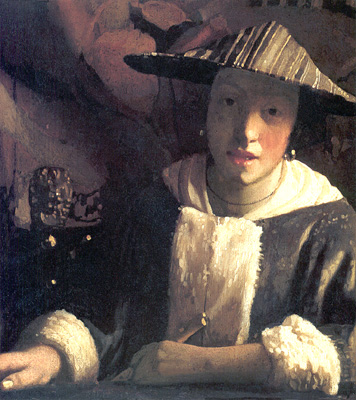 GIRL WITH A FLUTE (attributed to Vermeer) - c. 1665-1670
20 x 17.8 cm. - National Gallery, Washington D.C. - Widner Collection