Beautiful representation of an unmoving young woman, who looks as though she is noodling rather than really playing, while a young man contemplates her. The magic of the black and white tiling creates a perspective which is so uncompromising that it becomes surrealistic. The base viola, positioned in the center of this magnificently horizontal and vertical space, gives the composition all of its tension and closes with the virginals and the young woman.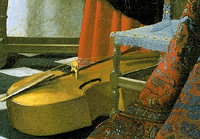 Much as Velasquez did in the Maids of Honor, Vermeer placed a mirror over the instrument which reflects an image which no mirror could: the image of the young woman, slightly plunging and in three-quarter profile.
The musical instrument's geometrical severity is balanced by the softness, the silkiness and the flow of the young woman's back, as well as the interplay between the straight and curved lines of the tiling and the base viola.
This is a painting representing only a lady noodling on her instrument while a man listens to her, and yet, because of the accuracy and implacability of this sight line, each painting is a miracle, and this is one of the most beautiful which has been dedicated to music.
---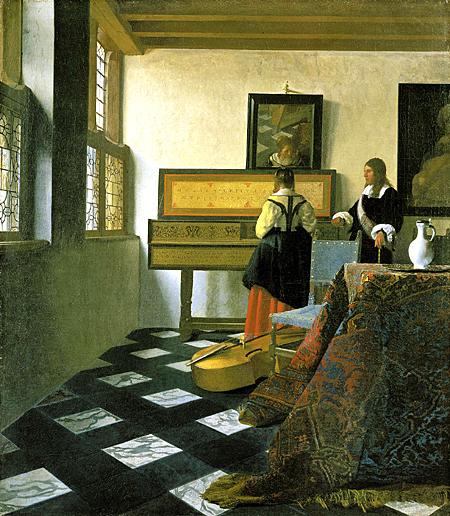 THE MUSIC LESSON - c. 1662-1664
73.3 x 64.5 cm. - The Royal Collection