A curious, enigmatic portrait. It is hard to believe that this is a Vermeer. At first glance, it seems distasteful. The young girl is not pretty. But, one is all the more mesmerized the more one looks at it, the more one studies the extraordinarily wide-spaced eyes, the too thin lips and the compensating richness of the blue and white clothing. The Young Girl With Turban provokes an immediate esthetic and sensual feeling of belonging.
This cold and icy aspect shows us how Vermeer could work his subject to an infinite degree when he had the right model.
The Vermeer miracle works without decor or tricks.
Why?
The reflection of colors, the marvelously adapted monochrome grey, the allusive nature of the face, while still unattractive, is a face of an apparition, sharp and blurred at the same time, done with infinite skill.
---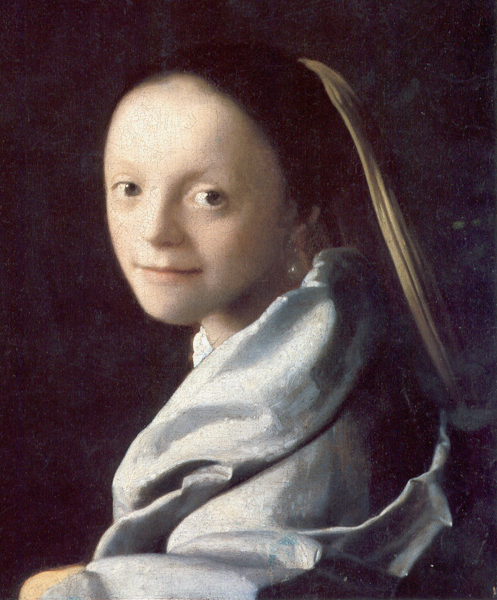 STUDY OF A YOUNG WOMAN - c. 1665-1674
44.5 x 40 cm - The Metropolitan Museum of Art, New York Gift of Mr. and Mrs. Charles Wrightsman, in memory of Theodore Rousseau Jr